From 1 January 2021, free movement will end and the UK will introduce a points-based immigration system. The new system will treat EU and non-EU citizens equally and transform the way in which all migrants come to the UK to work. Anyone coming to the UK to work, excluding Irish citizens, will need to apply for permission in advance.
Under a points-based immigration system, anyone coming to the UK for work must meet a specific set of requirements for which they will score points. Visas are then awarded to those who gain enough points.
The points-based system will provide simple, effective and flexible arrangements for UK employers to recruit skilled workers from around the world through a number of different immigration routes.
This represents a significant change for employers recruiting from outside the UK labour market, who will need to adapt. This guide provides an overview of the new system and sets out the steps employers can take to prepare.
A total of 70 points is needed to be able to apply to work in the UK: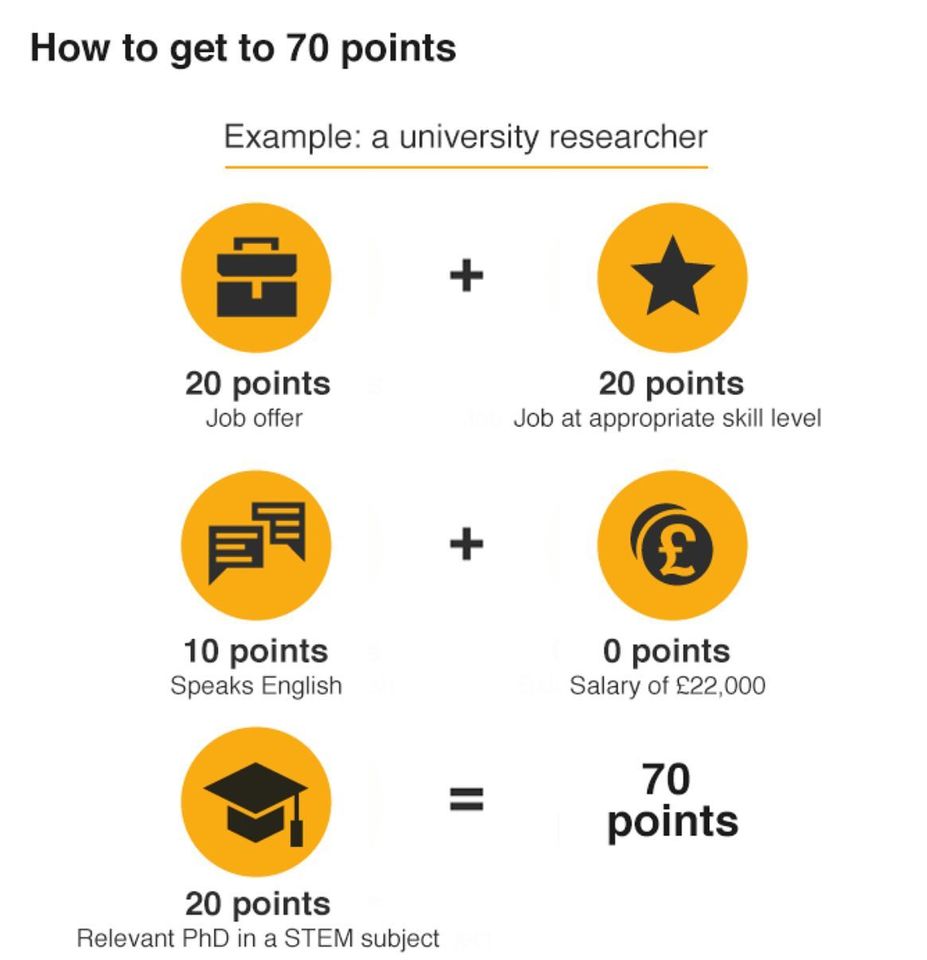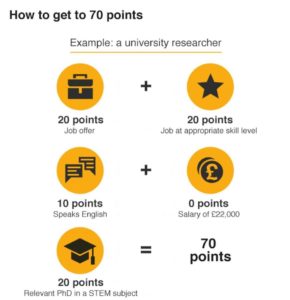 | Characteristics | Mandatory/Tradeable | Points |
| --- | --- | --- |
| Offer of job by approved sponsor | Mandatory | 20 |
| Job at appropriate skill level | Mandatory | 20 |
| Speaks English at required level | Mandatory | 10 |
| Salary of £20,480 to £23,039 or at least 80% of the going rate for the profession (whichever is higher) | Trade-able | 0 |
| Salary of £23,040 to £25,599 or at least 90% of the going rate for the profession (whichever is higher) | Trade-able | 10 |
| Salary of £25,600 or above or at least the going rate for the profession (whichever is higher) | Trade-able | 20 |
| Job in a shortage occupation as designated by the Migration Advisory Committee | Trade-able | 20 |
| Education qualification: PhD in a subject relevant to the job | Trade-able | 10 |
| Education qualification: PhD in a STEM subject relevant to the job | Trade-able | 20 |